Bertjan Pot
Heracleum for Moooi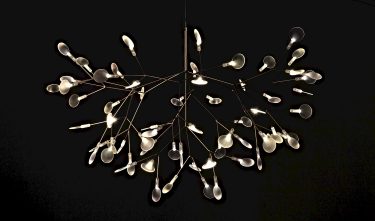 The project
A decorative LED lamp inspired by the Heracleum Plant. The white leaves/lenses ramify from one branch creating a very technical, natural structure. By using the technique of coating conductive layers, the lamp is very thin and delicate. A design not possible by using normal wires.
Committee
Designer Bertjan Pot borrowed the shape of the remarkable, transparent structure from the seed boxes of hogweed (Heracleum), which belongs to the family of Umbelliferae. The petals are little white plastic lenses; illuminated by 63 Leds, they turn the chandelier – both on and off – into a beautiful, dramatic exponent of 21st century lighting technology.
Jury
Heracleum is decorative. It is a contemporary version of a chandelier produced by means of modern technology.
— The technique and design are perfect for each other. (Bertjan Pot)