07.06.2019
How do you assess fashion? Why does it always seem easier to assess random products or projects than a fashion designer's collection? Yes, I know the term 'fashion designer' is out of fashion, but I am going to use it anyway. Everyone knows that clothing was one of the first products ever to be developed by humans since we have existed on Earth.
Why is it so difficult to grasp the essence of fashion, even though every one of us gets dressed each morning and thereby, if possible, makes our own choices? Women understand fashion better than most men. Yet even women can sometimes have doubts when it comes to a fashion collection or presentation. Is it beautiful or not, a mess or a statement, what do I actually think about women's clothing designed by men being presented on the catwalk? You have to immerse yourself in something before you can declare it as beautiful or ugly. And yes, there is no escaping personal taste. Taste, a word that for many no longer makes the grade.
'Designer fashion' is visible in itself; every designer's collection can be found online, there are prominent influencers and there are still fashion magazines. In fact, the topic of influencers raises a lot of questions for many people: what on Earth do these influencers do, what do they contribute and for who? This brings us to the mega fashion companies that love to give active vloggers fashion items as gifts so that they, by wearing these items in their films, will stimulate sales.
— In my opinion, fashion is primarily about emotion, intuition, reflection, prospect and culture.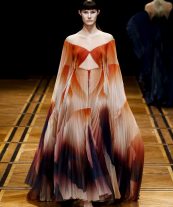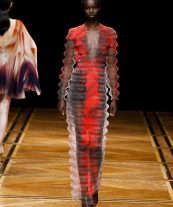 In my opinion, fashion is primarily about emotion, intuition, reflection, prospect and culture.
It is also about haste; the designer must be ahead of the game in order to create a fitting concept that could be quite different six months later. As a designer you have to relate to a world that has always been based on genuine beauty; a world that has now grown to become a repulsive industry in which money unquestionably plays the leading role.
Designers react to this industry and our current society with the design or presentations of their collections. Materials and re-use are put in the spotlight and the gender experience in a fashion presentation no longer shocks or surprises anyone anymore. Young designers replace very expensive catwalk shows with shows in alternative locations, showrooms, digital presentations, films and performances. Stories and productions are put together, together with artists, designers, film-makers, musicians etc. This is a recognisable development that can also be seen in other design disciplines and in the arts.
The discovery and use of digital technology is becoming increasingly important in fashion. Not only smart developments in clothing used in sport and healthcare, but also digitally designed and presented collections that are worn only digitally, no surpluses, no pollutants, no washing. And…. ideal for replacing yourself! Well, the solutions are not yet complete, but it is interesting to follow the developments.
The Netherlands is not a fashion country, never has been. It is interesting to see how and why Dutch designers are so highly valued in other countries. This is mainly due to inventiveness, creativity and sometimes humour. Viktor & Rolf became famous in Paris in one fell swoop thanks to the performance whereby they both stood still on the catwalk, elegantly draping all the dresses on top of each other on one model. A creative solution motivated by a lack of money. Iris van Herpen is at the international top through her use of unique digital techniques to create beauty. Resourcefulness and presentation; may many young designers follow in these footsteps.
My own answer to my own question: To make a good assessment you have to dare to love fashion.
Liesbeth In 't Hout, DDA jury member and committee chair in the category 'Fashion'