22.05.2019
The nominations for Dutch Design Awards 2019 have been announced. Independent committes of design experts have nominated three projects in each of the following categories: Product, Habitat, Communication, Fashion, Design Research, Service & Systems, Best Commissioning and Young Designer.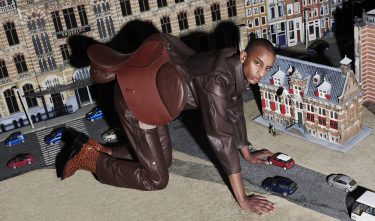 The winners will be announced, and the Dutch Design Awards 2019 will be presented on Wednesday 12 June during a private, festive Award Night. The work of all the nominees can be seen at the retrospective exhibition during Dutch Design Week in Eindhoven (19-27 October), where visitors can also vote for the Public Award 2019.
The nominations for Dutch Design Awards 2019 are:
PRODUCT
POPLARS | LEX POTT x WELTEVREE
THE COOLEST WHITE | BEN VAN BERKEL, UNSTUDIO B.V.
GISPEN SETT CE | GISPEN
HABITAT
LOCHAL | CIVIC ARCHITECTS, BRAAKSMA & ROOS ARCHITECTENBUREAU, INSIDE OUTSIDE / PETRA BLAISSE, MECANOO
THE WORLD'S LARGEST BICYCLE PARKING FACILITY | ECTOR HOOGSTAD
SOCIAL LABEL LAB / WERKWARENHUIS | STUDIO BOOT & C-MONE
COMMUNCATION
THE PALACE OF TYPOGRAPHIC MASONRY | THE PALACE OF TYPOGRAPHIC MASONRY FOUNDATION
OPENRNDR | RNDR
SONIC ACTS IDENTITY I THE RODINA
FASHION
DE RRUSIE SUIT | BONNE REIJN
MAISON pour MAISON | MAISON the FAUX
COLLECTION 004 EVOLVE AROUND ME | NINAMOUNAH
DESIGN RESEARCH
RE-SOURCE | RE-SOURCE
BASIC INCOME CAFÉ | MARTINA HUYNH
POWER PLANT | MARJAN VAN AUBEL STUDIO
SERVICE & SYSTEMS
BELOW THE SURFACE | FABRIQUE
BMX | CLEVER°FRANKE
THE BUTTON – DIGITAL PROOF OF AUTHENTICITY | MOOOI B.V
BEST COMMISSIONING
MOJO X HANSJE VAN HALEM X FABRIQUE | LOWLANDS ARTWORK & WEBSITE 2019
GEMEENTE AMSTERDAM | PUCCINIMETHODE
INTERPOLIS X FRESHHEADS | INTERPOLISSLIMME OPLOSSINGEN
YOUNG DESIGNER
SIMONE POST
NINAMOUNAH
AMBER SLOOTEN
Click here to see all nominees.