29.09.2022
Art and knowledge intertwined
Imagination and curiosity, all art(s) and forms of knowledge, come together in what we nowadays ambitiously and decisive call artistic research. In the design world, you could call it design research, with the emphasis on research as a verb. In recent years, this form of design has been on a solid rise worldwide and certainly in the Netherlands, and so we see it reflected in this year's jubilee Dutch Design Awards. For although this category has only been added to the list of awards since 2014, an ever-increasing potential of projects that feed this category is rising. Indeed, more and more projects in other categories too are emerging that would not be out of place on Design Research's long-, short- or even nomination list because they too are largely based on astute, idiosyncratic, profound research. It does not always make the choice within the various committees easier, but it does increase the range of meaningful design with 'evident potential for the future', as one of the additional criteria that commendable design research must fulfil. And that's a win.
The basis for the steady but irreversible advance of design research as a discipline in its own right starts already in art schools, where inquiry labs and research departments are sprouting up. Bachelors and masters are not only taught research methods; doing solid research and finding convincing ways to present the findings is taught, embraced and deepened as a basic attitude, and no longer only starting but also often ending point at graduation. 
The volume In/Search Re/Search, edited by Gabrielle Kennedy and published in 2020 by Valiz in cooperation with the Gerrit Rietveld Academy and the Sandberg Institute, for instance, sketches an inspiring overview of what can fall under the heading of artistic/design research within art education. Using twelve telling themes such as The Climate Crisis, The Fragile Human, The Question of Race, Naked Capitalism and The Morality of A Cyborg, makers and thinkers attempt to break 'the shackles of research'. With the aim of gaining greater recognition for and giving context to the radical potential that artistic and therefore design research can offer for the arts but also certainly beyond. 
In her introduction, Kennedy clearly outlines how artistic/design research can change perspective and understanding and open up new possibilities in the pursuit of discovering what we do not yet know or understand – precisely by doing it partly differently from what is common in other sectors such as science, business and journalism: 'Research does not necessarily have to be a high-end, or specialist pursuit. Nor is it only for trained experts in the field of education, science or research & development. […] Research in art and design entails exposing yourself, embracing change, and asking uncomfortable questions. Yet similar to more academic research it should be rigorous and tight.'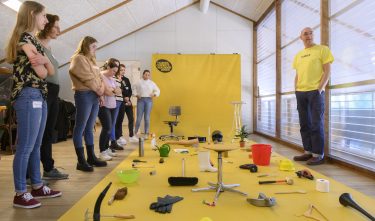 Just as this book shows how design research has taken root and flourished in art education, the archive of the Dutch Design Awards shows how design research has increasingly branched out and become more deeply rooted in the professional field. In the professional jury we experience this emphatically; the discussions and considerations we have to make become richer and more interesting with every passing year.
The above quoted description of what design research can be therefore applies to just about all the nominated and winning projects of recent years, however diverse they are. Every year, more projects present themselves and every year they become more diverse, in approach and reach, in perspective and collaborations, and in how they translate to the outside world – from book and game to exhibition or collection with great impact or refined elaboration, sometimes having a strong local or (inter)national resonance, sometimes directly helping people or leading to serious parliamentary questions. It is usually not easy to weigh all these differences against the given criteria, yet in dialogue we always manage to nominate three projects as exemplary. 
Looking back at all the nominations and winners since 2014, you can see that Design Research is significant in really all areas where design can be significant. From the first winner Next Nature with their In Vitro Meat Cookbook, which appeared almost simultaneously with the tasting of the first hamburger grown from stem cells that put awareness around cultured meat on the map in an accessible way, to this year's three extremely varied nominations: the Water School M4H+ by Studio Makkink & Bey, the Kleinkijk Academy by Sjaak Langenberg and Rosé de Beer and the Human Material Loop by Zsofia Kollar. That only one of them wins the prize is part of the competition. That all three are of great influence on how we respectively realize how big our water footprint actually is in order to be able to reduce it, how simple the means can be to achieve more pleasure and better contact in institutional care for the multiply handicapped, and how the millions of kilos of human hair we now see as waste in Europe can be converted into sustainable textiles, is of greater importance for now and the future.
That it has also dawned on The Hague that designers and creative thinkers can create projects like this to contribute to the many and far-reaching changes so urgently needed to tackle complex and interlocking problems of the 21st century is a good sign. How that translates into practice should, if all goes well, unfold before our eyes these years. That things might move faster if the Dutch art academies where it all begins were given university status including artistic doctorates – as fervently advocated by many – is a step. As long as with that 'higher' status, then, the idiosyncrasy of artistic research does not conform too much to the rules of research in the domain of science but continues to stretch them critically with personal commitment, the urge to change and many, many uncomfortable questions.