03.12.2020
Barely a month ago I (ed. Angelique Spaninks) was sitting in the Klokgebouw, on a Sunday afternoon at a large table in a beautifully lit but otherwise almost empty room. I was the second DDA jury chairman to announce the winner of the day. At the request of the always sharp and cheerful host Isolde Hallensleben, we first discussed 'my' category: Design Research. This is the foundation of everything, according to Isolde, and yet the newest category within Dutch Design Awards.
In fact, a prize has only been awarded for this type of design since 2014, and the category itself is clearly still developing. Perhaps precisely because research and curiosity underlie good design anyway. Large or small, material or immaterial, theoretical or practical, traditional or high-tech; it all comes down to knowing what you're doing, what your starting point is and your goal, your material, your assignment, your vision, the question or the problem you are tackling. It is all about analysing, experimenting, diverging and converging, deconstructing and rebuilding – and preferably also making the wrong assumptions and taking the wrong turns, recognising that manufacturability also has its limits and making the necessary mistakes, because that's what you learn from. That's all part and parcel of design.
Nevertheless, I believe that design research goes beyond this. Within design research, research is no longer a tool or method. It is the very core of the design. It's about the questions that are asked differently, the critical perspectives that take a different angle, the prevailing systems that aren't taken for granted but turned inside out, and the urgent but problematic changes of vision that need to be explored if reigning paradigms are ever to tip over.
It sounds quite big, but it can also be very small, as Matilde Boelhouwer proves with her convincingly winningFood for Buzz. A modest collection, colourful fake flowers, incorporating an extremely clever sugar water system. The project is based on meticulous scientific research into the dietary patterns of the five major pollinators which also need to survive in the city to help preserve its biodiversity under such pressure for decades to come. The research has been done and it works, so hopefully, by winning this prize she'll now find the backup funding to roll it out.
— We live in a time of hyper-change, one that is crying out for new insights. And that requires a great deal of design research. - Angelique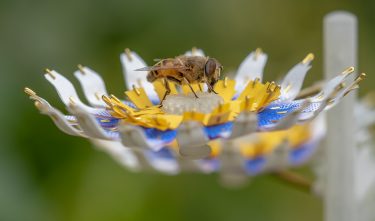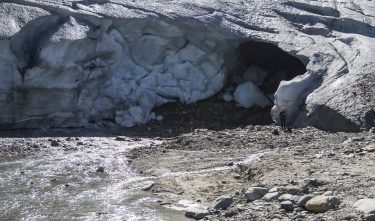 It also sounds like an extremely long-term, nearly Sisyphean task, to turn a whole system of thinking and acting around. But as Reframing Studio proves with Redesigning Psychiatry, this doesn't have to be an obstacle either. Just start, do, and set out a course that may take 15 years or more if necessary. In their case, it is so ambitious to dare to take on an entire field of activity such as psychiatry by slowly but surely making everyone involved realise that our mental health is not an isolated issue, let alone an individual one. Every study starts with the first steps, the first questions, the first shift of perspective.
And it sounds heavy and intellectual but can also be very intuitive, as Xandra van der Eijk proves. In her research Retreat, she portrays the unmistakable retreat of a Swiss glacier by sitting on an inhospitable rock next to it and recording the traces of decay, scanning these in 3D and printing them out. Yet it's not so much about these products – works of art almost. Her main concern has to do with mourning and living through what is happening. Retreat shows how large-scale climate change must not only be recorded in a hard and cold scientific way but also emotionally and culturally, for us to learn to relate to it.
All three nominees thus fully engage with the promise of what design research can be. Just like a large number of the other 36 projects on the longlist did as well. We live in a time of hyper-change, one that is crying out for new insights. And that requires a great deal of design research. When I look at the creative attitude in graduate projects from recent departments such as the Critical Inquiry Lab at Design Academy Eindhoven, the Master of Visual Culture at Avans/St. Joost or non-linear narratives and artistic research at the KABK – to name but a few – I don't have to fear intellectual, aesthetic or emotional dehydration for the time being. The Design Research category also promises to be flooded in the coming years with stimulating, in-depth and groundbreaking design projects in which research forms the core and which will help us find our way to the much-needed change that is so desperately needed in so many areas.
Angelique Spaninks, DDA jury member and committee chair in the category 'Design Research'.