16.12.2021
Less than two months ago, we were all dancing together on the field next to the Ketelhuisplein in Eindhoven. We were outside in the rain and the sun. Our white socks slowly turned brown as they soaked up moisture and oxygen from grey pockets of mycelium.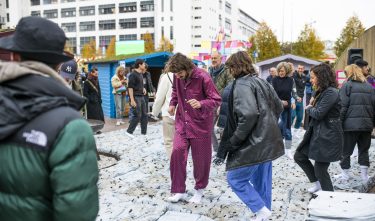 The earthly ritual – or 'gentle disco' – took place twice that week. Both times it was a highlight that made everyone happy as they swayed to the dance mix of DJ Huppeldepup.
Taking of your shoes off and dancing along, hugging an extra-large pumpkin, tasting miso, shaking algae's green hand, getting your tarot sung, eating eternal soup made from discarded ingredients – these were all low-threshold activities that gave colour to Arne Hendriks' Hara Hachi Bu village in an accessible way. It was cheerful, accessible, and somewhat chaotic. In any case, it is probably not what first comes to mind when you think about design research. But that's it. Design research is practised in the act.
Hara Hachi Bu is not a complex matter – it stands for giving space and taking a step back as well as not wanting/making/designing/buying even more but rather less or at least doing so in a different, more conscious, and more sustainable manner. That may seem simple. But in our world, it requires considerable changes in mentality as well as the courage to think and act differently.
That is exactly what Arne is aiming for with his intuitive research by design. At the intersection of modern science and ancient knowledge, he collects knowledge and insight. He also consciously allows the intelligence of the non-Western world and non-human sources. He transforms all of this into intriguing stories that often go against the mainstream. Stories about the importance of downsizing, pigeon and mushroom towers as inexhaustible circular ecosystems, and the necessary protein transition that can help solve many health and climatic problems. He builds visions that go beyond what we usually consider design and show what design can be. Also visions that he shares day in and day out in word and image, in question and gesture, and in dancing and tasting with everyone who sets foot in his village during DDW.
— With his approach, Arne Hendriks cleverly undermines the danger that always lurks in design research – especially for the uninitiated outsider. All too often, exciting or original research questions become tangled in complex theories, small-scale experiments, unrealistic scenarios, and vague speculations. They are captured in beautiful books, notes, and documentaries, which soon disappear in deep drawers or in the depths of the internet.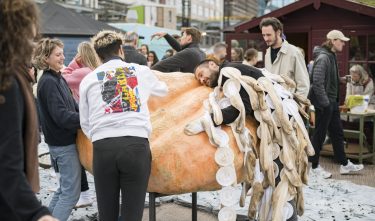 But this is not the case with with Arne. Nor with the ever-increasing wave of design researchers who have registered for Dutch Design Awards in recent years. They are increasingly able to extract their research from established frameworks, translate it into accessible terms, and convert it into appealing experiences. Take the three nominees in the 2021 Design Research category. All three succeed in working out very different types of research into playful, direct experiences that emphatically transcend the paper. For example, 'winning Good Neighbours' of affect lab examines the surveillance society in which we live on the basis of everyday smart doorbells and handy neighbourhood apps by 'testing' them in a large-scale performance. Do they contribute to an increased sense of security? Or do they reinforce suspicion and prejudice? And where does all the data they generate actually go? And what happens to it? We should all become more aware of this because it affects us all.
Muzus takes a different approach and uses a game format in order to illustrate the gruesome complexity of settling income and benefits so that people with disabilities who do want to work get into trouble. The game '1 hour in welfare' is then played with politicians, civil servants, and UWV employees, who all need to become more aware of the situation. And it soon turns out that even they don't get out easily and experience first hand what a quagmire of rules we have ended up in – where the system has taken over from humanity.
Floris Schoonderbeek also finds an appealing and adventerous way to recalibrate his role as a designer in light of the current climate transition When the world came to a standstill because of the coronavirus, he built a field station and went camping in order to test sustainable techniques off the grid. He was supported by surprising collaborations with biologists, physiologists, and food experts.
It is precisely the active involvement of people and letting them experience what is being researched by including them in the collection of insights and data in a playful manner or through performance that also makes sharing the results extremely tangible and lively. Better than a good book or clear note will ever do. Moreover, it opens up the possibility to directly talk about the subject of research with all possible stakeholders and allow them to contribute to further results and actual applications. Through theory and experimentation, good design research can eventually lead to genuine insight and decisive action.