01.07.2021
Independent juries of design experts nominated 3 projects in each of the following categories: Product, Habitat, Communication, Fashion, Design Research, Data & Interaction, Best Commissioning and Young Designer. Are you curious to find out who's in the running for a Dutch Design Award in October? Find out now!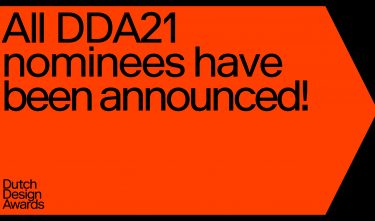 Nominees DDA21
Juries were led by the committee chairs Ingeborg van Lieshout (The Green Light District), JaapJan Berg (Bergplaats), Mieke Gerritzen (The Image Society), Iris Ruisch (M-ODE Foundation), Angelique Spaninks (MU Hybrid Art House), Daniël Sytsma (Isobar & Dentsu), Pieter Aarts (IN10 Digital Innovation) en Evelien Reich (ELLE Decoration NL). They assessed all of the submissions by using the criteria: impact, distinctive character, expressiveness and production method, together with extra category-specific criteria.
PRODUCT
LELY SPHERE | FLEX/DESIGN
BYBORRE CREATE™ | BYBORRE
RAINTAP | STUDIO FLORIS SCHOONDERBEEK
HABITAT
MARKER WADDEN | ZIEGLER | BRANDERHORST STEDENBOUW EN ARCHITECTUUR x VISTA LANDSCHAPSARCHITECTUUR EN STEDENBOUW x PALMBOUT URBAN LANDSCAPES x FRITS PALMBOOM STEDENBOUWKUNDIGE x BOSKALIS x NATUURMONUMENTEN
SPAARNDAMMERHART | KORTH TIELENS ARCHITECTEN X MARCEL LOK_ARCHITECT
SERRES SÉPARÉES | STICHTING MEDIAMATIC 
COMMUNICATION
STAY SANE STAY SAFE | STUDIO LENNARTS & DE BRUIJN X OVERDESCHREEF
WWWSHOWWW | RANDOM STUDIO
MIJN STEM IS GROEN | LESLEY MOORE
FASHION
KABRA | XHOSA
LEELA | THE FABRICANT
21 SPRING SUMMER, SB SYNERGY | SCHEPERS BOSMAN
DESIGN RESEARCH
RECALCULATING ROUTE – AN EXPERIMENTAL ROADTRIP | STUDIO FLORIS SCHOONDERBEEK
GOOD NEIGHBOURS | AFFECT LAB
ALS VERREKENEN EEN BEPERKING IS | MUZUS X OPTIMALISTIC
DATA & INTERACTION
GLOBALANCE WORLD – GOOGLE EARTH FOR INVESTORS | CLEVER°FRANKE
FALSE MIRROR – ECLIPSE | ALLLESSS
SMART DISTANCING SYSTEM | JÓLAN VAN DER WIEL & NICK VERSTAND X SINGA
BEST COMMISSIONING
CIRCULAIR WARENHUIS | STICHTING KRINGLOOPBEDRIJF HET WARENHUIS X POPMA TER STEEGE ARCHITECTEN X BURO BORDO X RAW COLOR
STRATEGISCH ONTWERP VOOR THE OCEAN CLEANUP | GRRR – BUREAU VOOR ZINNIGE ZAKEN X THE OCEAN CLEANUP
BIOPARTNER 5 | BIOPARTNER CENTER LEIDEN X POPMA TER STEEGE ARCHITECTEN
YOUNG DESIGNER
AUDREY LARGE
BOB HENDRIKX
BODIL OUEDRAOGO 
Want to read more about the nominees and their projects? Check the Awards 21 page for all info and jury comments.