13.06.2019
Spatial designer Frans Bevers has won the BNO Piet Zwart Award 2019. Bevers received the prize from Timo de Rijk, chairman of the jury, during the award ceremony of Dutch Design Awards on Wednesday 12 June.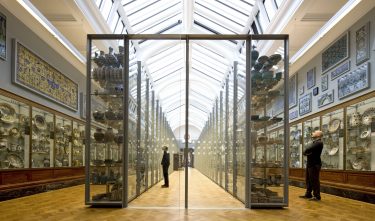 Together with the firm OPERA, Frans Bevers made a major contribution to the profession of exhibition design, a profession that had barely been developed when he started out.
Jury: "He was looking for a substantive dialogue with the clients, so that concept and execution could really be achieved together. He always strived for the optimal combination of story and the exhibited object. At an early stage, he opted for a multi-disciplinary and interdisciplinary approach, making use of what was still known as the 'new media' in the 1980s. Averse to conventions, Frans Bevers managed to stimulate and challenge clients to create exhibitions that are powerful and compelling, both in terms of content and visuals. He introduced metaphorical approaches and worked closely with external designers, artists, writers, photographers, filmmakers, technicians and curators. In the meantime, he himself had become the driving force that defined the content frameworks and directed the design process in a charming and energetic manner. He gave space and at the same time managed to steer towards a coherent whole."
You can read more about Frans Bevers and the BNO Piet Zwart Award here (Dutch only).