17.02.2022
Last October, designer Audrey Large received a 'Keep an Eye Foundation - Young Designer Grant' as a Young Designer winner for the further development of her work. How has she been since winning this prize?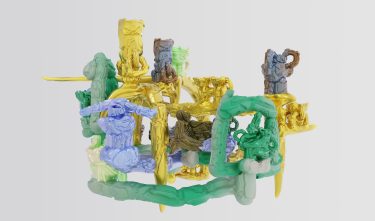 How have you been since you've won your Dutch Design Award?
"I am doing well! Many projects have been planned, and I am happy to develop my work independently. I am also excited about the opportunities to intervene in different contexts, whether in object design exhibitions, art museum shows, outdoor sculptures or private commissions for interior projects."
How do you want to spend your Keep an Eye grant? Can you give us any insights?
"To me, this grant represents an excellent opportunity to strengthen my practice to continue working independently but also offers me a safe place to experiment. I feel it is now necessary to invest first in my studio facilities and then scale up production to explore new digital fabrication techniques and materials." 
What type of investments are you thinking of?
"My work focuses on the transformation of digital files into material objects. In the first step, I spend a lot of time creating and sculpting these files in 3 dimensions using software. In step 2, I bring these files into our tangible reality via digital fabrication. So far, I've been using 3D printing. I do everything myself in my studio with my own machines. To take my work to the next scale, I would like to research new digital fabrication processes and materials in collaboration with companies offering high-tech facilities. This possible collaboration will allow me to do larger-scale works and research new digital and unreal looking surface effects."  
Are there any other things you can share with us right now?
"While designing objects, I produce many images: whether they are hand drawings on paper or 3D renderings of 3D models I design on the computer. This material is complementary to my practice but is not often put forward as the results shown in exhibitions or galleries are usually the actual objects. Therefore, I want to present this material in a printed publication that will bring together drawings, renderings and staged images of material objects – again blurring the boundaries between the digital and the material. Unlike an artist's book or a process book, the publication is envisaged as an experimental object in its own right."