21.09.2022
Building bridges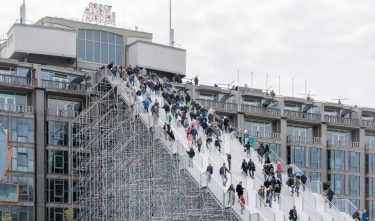 Looking back at the nominations for the Habitat category of the Dutch Design Awards from the past ten years, what stands out is the number of bridges: the Vlotwatering bridge (2016), the Zalige bridge (2018) and the technological and photogenic tour de force, the MX3D bridge by Joris Laarman Lab (2018). If we stretch the definition of bridge a little further, this list can be extended to include the nominees De Trap by MVRDV (2017) and the Luchtsingel by ZUS (2016). Is this a coincidence, or do these designs have a specific signal function?

The Zalige bridge (2018) by NEXT Architects, that was crowned winner, is a fascinating project in many ways and continues to contribute to the discussion of how our country (and beyond) deals with the dramatic consequences of climate change in our landscape. How can we organise our country in such a way that it remains liveable while simultaneously anticipating the effects of flooding and drought. NEXT's design shows in a stimulating and conceptually convincing way how design can be both functional and can offer new perspectives for a different approach to these issues.

The Vlotwatering bridge (nominated in 2016) is by the same agency and also beautifully shapes the current demand for green, recreational connection with nature-friendly riverbanks and fish spawning grounds. It is a successful example of combined functionality (infrastructure, mobility and nature inclusivity) that is also increasingly noticeable in many other designs in the Habitat category.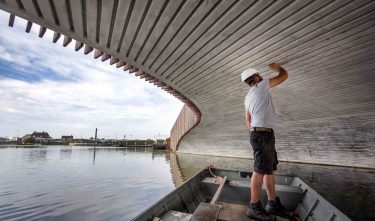 Transition phase
More and more designers and their clients are realising that the innovative combination of assignments, functionality and materials can often lead to much more sustainable, material-saving and intrinsically richer designs. This is an important essence against the backdrop of the sometimes-complex assignments, but also the often limited space available in our densely planned country and the necessity for circularity and reducing the use of primary raw materials. This trend, visible in the DDA entries and nominations, but of course also further afield, shows that design truly finds itself in a transition phase. In so many ways, designing today is a matter of, and a desire to, build bridges.

From this perspective, other recent DDA nominations certainly belong to this trend. For example, the People's Pavilion by Overtreders W and bureau SLA (2018), the Marker Wadden by – among others – Ziegler Branderhorst, Vista and Palmbout (2021), the transformation of the Kleiburgflat by NL Architects and the LocHal by Civic architects (2019). These and many other projects, also in the other DDA categories, play a very important role in building a bridge towards a new reality. One in which design goes far beyond merely satisfying aesthetical needs or providing ingenious embellishments. But where designers (together with their clients) actively and intensively search for necessary, urgent, but no less stimulating designs, that are sustainable, layered and multifunctional. Designs and designers that search for new standards for complex issues and who strive for and believe in a lasting and useful role and meaning of spatial design in general.