01.04.2021
Dutch Design Awards honours the best Dutch design of the preceding year. We do this in eight categories, each with its own professional jury. Who is in the jury and who is going to judge your work? And who is their representative in the main jury? In the coming weeks, we will announce the faces behind each category. We would like to introduce to you the experts of Communication!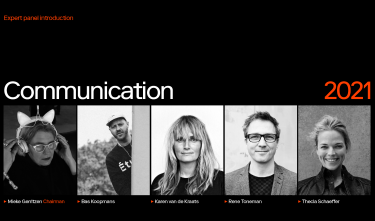 Main Jury
Mieke Gerritzen
Mieke Gerritzen is a designer and curator, born in Amsterdam. In the early nineties, she was one of the first designers involved in the development of digital media in the Netherlands. She is founder of The Image Society and was director of MOTI, Museum of the Image in Breda, from 2009 until 2017. In the seven years before that (2002-2009), Mieke was head of the design department Sandberg Institute, the master course connected to Gerrit Rietveld Academy in Amsterdam. Mieke creates networks with many different designers, writers and artists. In 2001, she started the organisation and production of movies, publications and events like "The International Browserday" in New York, Berlin and Amsterdam and "The Biggest Visual Power Shows in Amsterdam and Los Angeles." Besides, she published more than 10 books and received many prizes and gives lectures and presentations worldwide.
Expert Panel
Bas Koopmans
Bas Koopmans hovers somewhere between graphic designer and creative director. With a love of typography and communication as main focus, he works independently and in various teams on projects in which form and content reinforce each other. In addition to his own studio, he is a partner in an art fair, runs a music label, and regularly gets involved in all kinds of side projects.
Karen van de Kraats
As an Art Director of WeTransfer's creative studio, Karen takes the lead in developing and maintaining WeTransfer's brand identity and the design of its content site WePresent. For WePresent, this includes art directing and designing commissions and branded content pieces, where she makes sure the designs reflect the works' quality by artists like FKA twigs, Riz Ahmed, and Björk. Next to that, Karen develops the aesthetic for WePresent's annual magazine. She also has led and designed the WeTransfer's 10th-anniversary identity in 2019 and The WeTransfer Ideas Report in 2020. Karen's approach is to push her designs as far as possible, to change people's perspectives on visual culture, and go beyond what we are already familiar with.
Rene Toneman
Rene Toneman is co-founder and creative Director of Silo Agency, based in The Hague. Besides that, he is a member of the board of the Association of Dutch Designers (BNO). Rene graduated in Graphic Design and began his career as a graphic designer at Studio Dumbar, increasingly focusing on the development of visual identities for public national institutions and prominent enterprises. After that, he worked at Fabrique and later established his own strategic design agency called Silo in 2007. Under his leadership, Silo has gained global recognition for design excellence and was appointed European Design Agency of the Year in 2012 and 2017. His team's work has been recognised by ADC New York, D&AD, EDA, Red Dot, Frame, Tokyo TDC, ADCN, DDA, and IF.
Thecla Schaeffer
Thecla Schaeffer is officially called Head of Marketing (in Marketing Land), but at Tony's Chocolonely, she's Marketing Magic Maker. Or, you know, just Thecla. Her resume covers a full spectrum from cum laude psychology graduate to ad land strategy hotshot, to CMO of both G-Star RAW and Accell Group. She has worked on memorable projects like G-Star jeans made of plastic bottles from the ocean. Not to mention a collab with Pharrell Williams. That's the magic that comes from mixing social and cultural psychology with youth culture and social identity.