13.04.2021
Dutch Design Awards honours the best Dutch design of the preceding year. We do this in eight categories, each with its own professional jury. Who is in the jury and who is going to judge your work? And who is their representative in the main jury? In the coming weeks, we will announce the faces behind each category. We would like to introduce to you the experts of Data & Interaction!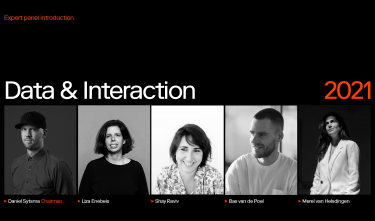 Main Jury
Daniël Sytsma
Daniël Sytsma is a specialist in brand creativity, design and innovation, on a mission to make work magical and meaningful. As Global Chief Design Officer, Dentsu Creative & Isobar, he is responsible for driving creative excellence and game-changing work across Isobar's 85 offices and the wider Dentsu network. Over the span of 15 years Daniël worked as ECD & partner at dentsuACHTUNG!, launched design and innovation studio Kraftwerk and built award-winning teams that created work recognised by Cannes Lions, D&AD (yellow pencil), Eurobest (2X Grand Prix), Red Dot Design Awards (1X Grand Prix) and the Webby Awards.
Expert Panel
Liza Enebeis
Liza is Creative Director at Studio Dumbar (part of Dept), an award winning international agency with a Dutch heritage, specialising in visual branding and motion. She is an MA Design graduate from the Royal College of Art, London. Before joining Studio Dumbar she worked for Pentagram London for several years. As of 2018, she has been elected member to the prestigious AGI, Alliance Graphique Internationale. And in 2020, she was appointed as co-President of the ADCN, the Advertising and Design Club of Creativity in the Netherlands.
Shay Raviv
Shay Raviv is a social designer, design researcher and project initiator. Together with Pim van der Mijl, she founded De Voorkamer in Utrecht in 2016, a place where cultures meet. She works on different projects in which culture, design, and creativity are seen as a means to bridge societal gaps. As a design researcher, she brings stories from different perspectives to the center of a creation process and helps organisations to better understand the people and places they work with. Additionally, Shay tutors at the Hogeschool voor de Kunsten Utrecht and Design Academy Eindhoven.
Bas van de Poel
Bas van de Poel is Innovation Director and co-founder at Modem, an office for design and innovation designing for resilience in times of exceptional change. Prior to this, Bas worked as Creative Director at SPACE10, IKEA's research and design lab. Here he worked on large-scale digital transformation and sustainability programs.
Merel van Helsdingen
Merel van Helsdingen has worked in the Marketing & Partnerships departments for various big tech, music and entertainment companies in London (Apple, BBH, Crowdmix). At BBH, she specialised in digital marketing and entertainment partnerships and worked with Disney, YouTube, Rovio and Universal Music. Her passion for new media, film and music, combined with her entrepreneurial flair led to the foundation of Nxt Museum in 2018. She is Nxt Museum's leading force, from concept to fundraising and artist liaison. She holds a bachelor's degree in Media & Culture and an MA in Marketing from the International Business School ESCP Europe.