15.04.2021
Dutch Design Awards honours the best Dutch design of the preceding year. We do this in eight categories, each with its own professional jury. Who is in the jury and who is going to judge your work? And who is their representative in the main jury? In the coming weeks, we will announce the faces behind each category. We would like to introduce to you the experts of Design Research!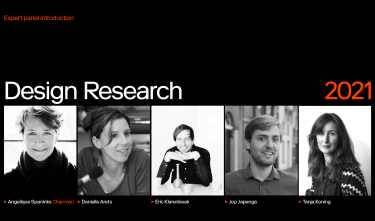 Main jury
Angelique Spaninks
Combining journalism, criticism and curating Angelique Spaninks has developed a generalist, interdisciplinary practice bridging contemporary art, design, digital culture and bio art & design. Since 2005 she runs MU Hybrid Art House, one of the leading contemporary art institutes in the Netherlands with an outspoken multidisciplinary programme as both director and curator.
Between 2012 and 2018 she combined her position at MU with being director and curator of STRP Biennial with a focus on creative technology. Currently, she is chair of the Talent development commission of the Dutch Creative Industries Fund, advisor for the Lectorate of St Joost/Avans Art Academy and she runs the Bio Art & Design Award.
Expert panel
Danielle Arets
Danielle Arets is lecturer Journalism & Responsible Innovation at Fontys Hogeschool Journalistiek and connected to the research minor Design Research at Design Academy Eindhoven.
Eric Klarenbeek
Eric Klarenbeek forms a duo with Maartje Dros since 2004. Studio Klarenbeek & Dros collaborate on R&D and design projects striving for local new economies and production chains, material development and durable design objects for public space, interior design and consumer products. They combine and connect forces by creating new networks and collaborations with universities, high-tech companies as well as farmers and local producers.
Next to the studio's projects Eric is a tutor at the master programme of Design Academy Eindhoven and at the Master of Architecture in Tilburg. In 2011 he founded the ArTechLab at Artez Enschede and this year the Biolab at Design Academy Eindhoven is given form.
Jop Japenga
Jop Japenga is co-founder of Afdeling Buitengewone Zaken (A/BZ), a social design agency that focuses on complex social issues. The design agency investigates major themes by means of concrete design interventions in real, everyday situations. By doing so, they develop new approaches and solutions for and with their partners; companies and governments with ambitious goals for the future. As Research Director, he focuses on the application and development of the methods they use to tackle these challenges and the insights their projects provide. Besides his work for A/BZ, he teaches Design Research at the Master Design of the Piet Zwart Institute.
Tanja Koning
Tanja Koning is an independent curator/researcher working on interdisciplinary projects where the arts merge with design, technology and science. In an attempt to translate future scenarios to a broad audience her projects are often found in places of wonder: together with scientists, architects and governments she maps the Circular Economy. She is also a researcher for various exhibitions about the future and teaches at de Willem de Kooning Academy in Rotterdam.