12.05.2020
Who are the winners of the Dutch Design Awards? What drives them and what is their vision of design? This time in the Winner's Portrait series are Ester van de Wiel and Joost Adriaanse of RE-source. A collaborative project between Design Academy Eindhoven, Vrije Universiteit Amsterdam, Gemeente Rotterdam and Studio Ester van de Wiel. This design research into the circular city won a Dutch Design Award in the category Design Research.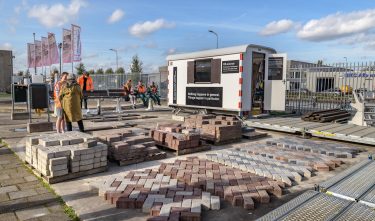 You call yourselves designing researchers. What does this mean?
Ester: 'Researching in a designing way is thinking through making. This means that you try to use materials and situations in order to discover new insights and to sketch new possibilities.'
Joost: 'It is not necessarily about solutions, but about the possibilities that can be found at different levels. You cannot think about such things while sitting behind a desk, but rather discover through observing in a certain way, intervening and then reflecting.'
— 'With this issue of circularity, it is essential that we let go of the idea that 'everything should be right' at a certain point. The art is to know how you should relate to this interchangeability.' - Ester
Circularity in the urban environment is a complex topic with various levels. How did you set up the investigation?
Ester: 'RE-source focuses on five streams of waste material that arise within urban management. What happens with these materials? How do things actually take place? How can we intervene in these processes?  We carried out research on all kinds of levels into how these cycles move within Rotterdam city council. Five alumni of the Design Academy Eindhoven crossed their way of working with these waste flows and the system in which they operate. Jos Klarenbeek researched concrete paving stones, Thom Bindels silt, Simone Post grass, Paul Slot street furniture and Manon van Hoeckel plant materials. They were supervised, observed and analysed throughout the duration of the project by the core team, consisting of me, Joost, David Hamers en Ginette Verstraete.'
Joost: 'Throughout their research into waste flows, the design researchers worked together with insiders from different practices. From policy makers to pavers and from the parks service to managers of material depots. We made the conscious decision to integrate design research into waste streams and daily practices within the city council, with reflection from the perspective of humanities, because this delivers a wealth of results and new leads.'
Why is Design Research so valuable to a topic like circularity?
Ester: 'With the issue of circularity, it is essential that we let go of the idea that 'everything has to be right' at a certain point. The reality is complex and versatile. The concrete waste stream, for example, is not one thing, but a composition of people, tools, places and all kinds of other things that are linked to it. The art is to know how you should relate to this interchangeability. Design Research is all about this interchangeability. It is research with the aim of exploring and visualising possibilities. This could result in a product, or it could lead to a system or an event. This gives an important kind of freedom to move between different scales and systems and to blend different skills together. This is important with a topic like circularity. All significant, transitional issues we are dealing with right now demand perspective from multiple disciplines. Engineering alone isn't enough.'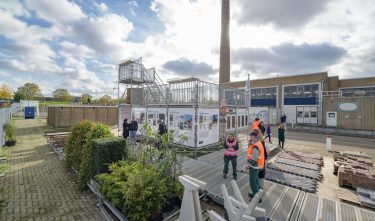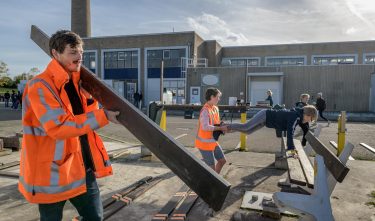 How did you ensure sufficient support from the city municipality?
Ester: 'By following materials and products on their way through the urban network, you automatically come into contact with all departments. From policy to paving. Our hands-on way of working, by helping with paving for example, meant that we were approachable, more involved and this opened up many new sources of information and starting points. And because designers visualised things and gave feedback on how they saw the various employees, they felt valued and could relate to the project. It generated a special feeling of commonality.'
Joost: 'Understanding each other's perspectives through experimenting together also demands a shared vocabulary. What are we actually saying if we say this? If you come from different worlds, you all speak your own language and give your own meaning to words. We took the time to understand each other's language and to build a vocabulary together.'
The RE-source website is an online platform and a living archive. Why have you chosen this and how does it work?
Ester: 'We wanted to structure information without pigeonholing things. We decided to build a kind of serendipity machine. Every photo, text, drawing and video is labelled. Together, the labels form a basic vocabulary. This links together every kind of material, but it also connects theory with practice, design with reflection, and vice versa. Using the labels to search means that you can expose coincidental combinations and relationships.'
Joost: 'Results were sometimes conformational and sometimes confusing. This led to many interesting conversations that we would otherwise never have had. The website is one of our most important research tools.'
— 'It takes a lot of guts from the local municipality to allow other people to take a look inside their systems, let alone to blend these systems together. But this trust is essential in order to reach new insights.' - Joost
The research programme lasted two years and is now finished. What are your conclusions?
Joost: 'Shaping a vision of acting circularly demands courage, patience, time and trust. It takes a lot of guts from the local municipality to allow other people to take a look inside their systems, let alone to blend these systems together. But this trust is essential in order to reach new insights. Not only do you use outsiders as design researchers for this, but you must also really collaborate with them. In my opinion, this has been really successful. The confrontation between different worlds turned out to be very productive. The boundary between insider and outsider, doer and thinker, hands, feet and head have blurred, and this has led to truly new perspectives.'
With all these insights, surely RE-source isn't finished yet. What is the follow-up?
Ester: 'We have developed a working method that can primarily also be applied in other municipalities. Interested parties have already been in touch. Perhaps we should set up Studio RE-source for this, but we aren't that far yet. First, we are continuing in Rotterdam. We have discovered so many new perspectives and there are still several interesting waste streams we can research. In any case, we are going to continue with a few pilots. We are going to build a test road and thereby test the paving pattern of used and new stones and think about a new stone and silt depot. The insider-outsider position remains important. We want to retain our freedom as free players.'
RE-source
RE-source is a design research project into the circular city. It maps out urban waste streams, in order to then be able to use them as a source for circular thinking, doing and learning. All this is done in close collaboration with designers, the city of Rotterdam and other stakeholders. RE-source provides insight into what systems, locations, products and materials that are needed in a circular city – in this case Rotterdam – could look like. At the same time, it designs strategies for turning these waste streams into a resource that can be used time and time again.