28.11.2019
Who are the winners of Dutch Design Awards? What drives them and what is their vision of design? This time in the Winner's Portrait series is Edwin Jakobs, creative coder and one of the three founders of RNDR. This design studio for interactive media won a Dutch Design Award in the category Communication with OPENRNDR.
Do you call yourselves designers or programmers?
'We are experience designers. In our studio we help our clients with their design problems, with software as the starting point. We always embark upon an interesting design process, involving experimentation with data visualisation within the space. We see creative coding and programming as a research resource or a means of expression. It allows so much freedom and creativity.'
The Jury calls OPENRNDR an innovative, open, cross-media and multidisciplinary platform for all designers and believes that it heralds a revolution for the profession. Why do you think this is?
'We are not the only ones, so I wouldn't say that we alone are unleashing a revolution, but OPENRNDR does characterise a very clear shift. In the early years, designing software was so complicated that it was essential to share knowledge in order to progress further. Later, when software turned out to be a profitable product, everything was protected again. Now we live in a society in which so much information can be found online, where design and software are merging together more and more and where it is normal to figure out for yourself how things work. If we want to continue growing, we have to make this knowledge accessible again. This in turn will generate new tools and a new visual language.'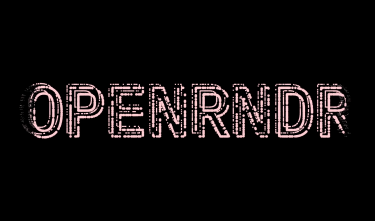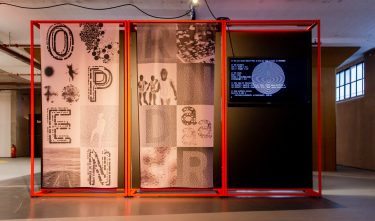 What makes OPENRNDR so unique?
'We made a conscious decision to organize it in a certain way. The designer is the starting point and we wanted to make it as easy as possible for creatives to work with it and expand on it. As such, we have documented everything in easily accessible manuals and moved a few technical aspects into the background so that it is easier to be creative. But if you are interested in the technical aspects, you can easily bring them to the foreground. You can even see how OPENRNDR itself works. We have exposed our own framework.'

Isn't that a little too open?
'It is nerve-wracking to give everyone an insight into your way of working. You open the door to criticism from colleagues and users. But it would be weird to call it open source and then not be open about it. OPENRNDR is very organic and has no final form. And that's exactly the point. The more people use it and contribute to it, the more new applications and forms will be created. It's really special.'
— 'We want to stimulate peoples' research capabilities and enable them to develop new tools and techniques themselves, and to share them with each other.' - Edwin
How can you keep it open source? 
'The energy we have put into it is repaid in a different way. To start with, it is of course a special portfolio. Furthermore, its organic nature means that it is also a source of knowledge and insight for us. We have also documented a lot of our expertise for OPENRNDR. This is valuable for interns, new employees and other colleagues who want to do something with it. The whole studio benefits from it.'
OPENRNDR supports the design community and helps it develop further. Why is such a platform so important to you?
'We all use apps, applications and websites, but do we ever wonder how these things work? And whether they could work better for us? We want to stimulate peoples' research capabilities and enable them to develop new tools and techniques themselves, and to share them with each other. I think this is exactly what's needed: to be critical of existing systems, to experiment and to mix technology and creativity together. OPENRNDR offers interesting input for this.'
OPENRNDR
OPENRNDR is an open source framework for  creative  coding. Interactive sketching with code leads to the discovery of unexpected things that can be developed further. OPENRENDER is available to everyone and therefore creates an inclusive community for coders, designers and other users.