MTD Landschapsarchitecten
City Square Clausplein Eindhoven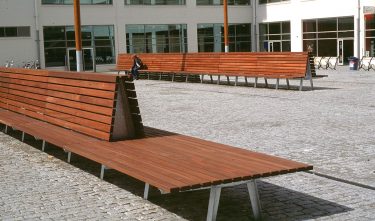 The project
Clausplein Eindhoven is a part of bigger project by MTD Landscaping –
The Regentekwartier (Regents' quarter) a new, high-grade, compact housing area that is being realised on the grounds of the old Philips site.
With the entrance square of the Regentekwartier the development plan endeavours to create a habitable area, which, in itself 'more or less separates it from the dynamism and intensive traffic movements of its environment. This effect is brought about by three sections of the square at different levels. The individual sections of the square differentiate themselves with regard to use of materials, intention and use, in which the upper section, the actual square, is mainly intended as a place to stay. At intervals, the 15 metre long benches fold themselves around a frame in a different manner, which creates a variety of benches and can be used for various reasons; sitting benches, resting benches, lazing-about benches, leaning benches.
Committee
Het Clausplein offers an interesting solution for the available space: the different levels automatically limit the accessibility for cyclists and skaters.