Scholten & Baijings
Colour Porcelain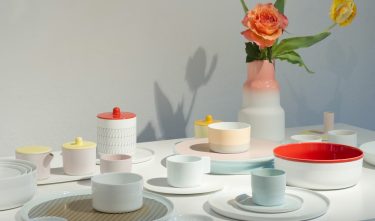 The project
Scholten & Baijings have developed tableware for Arita 1616, one of the oldest porcelain manufacturers in Japan. Colour and shape play an important role in the various table objects. The collection consists of three series: Minimal, Colourful and Extraordinary. In addition to exclusive plates, cups and bowls, each series also comprises serving platters, candleholders, vases and a tea set. For the collection of 1616 Arita, Scholten & Baijings prepared a colour analysis involving historical masterpieces. Typical Japanese colours, such as aquarelle blue, light green, red-orange and yellow ochre, were the ones that played a prominent role.
Committee
The designer duo has succeeded in applying a recognisable colour palette based on a thorough colour analysis of historical Japanese masterpieces, in a refreshing way. The tableware has a beautiful formal language. Surprising choices have been made with respect to the forms, lending them a specific kind of naturalness.
Jury
This delicate service emanates absolute harmony, both in form, color and the application of glaze. The design subtly makes use of the past, which is what makes it strong. It is an ultimate match between consumer culture on the one hand and the design proposition on the other.
— A thorough color analysis based on historical Japanese masterpieces, applied in a fresh way