Ontwerpatelier openbare ruimte gemeente Apeldoorn
Gravel Verges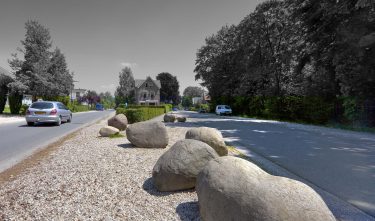 The project
The presence of several gravel pits in Apeldoorn established a long tradition of using gravel for the construction of roads. Unfortunately, the gravel roads and verges have declined. To reinstate the tradition Apeldoorn has developed a plan. Not only does the city council want to restore the existing gravel verges, but gravel should also set the tone in new public spaces. The design of the public space should, where possible, be inspired by what is perceived to be 'typically Apeldoorn'.
Committee
Despite its restrained character, the design manifests itself strikingly in the public space. It also shows awareness of the city's memory. The anonymity of the designer (the municipality of Apeldoorn steps forward as the author) makes the design's superior quality all the more remarkable.
— The gravel verges guarantee the typical traditions of Apeldoorn.