John Körmeling
Happy Street
The project
Happy Street is John Körmeling's interpretation of the world exhibition's theme: Better City, Better Life. With Happy Street Körmeling would like to show that the Netherlands is at the forefront of developing cities on a more sustainable and human scale. The street looks like a three-dimensional figure eight, the Chinese lucky number. The street is lined by 28 dwellings inspired by Dutch architecture history. The houses are white on the outside and made of the same material, with timber walls inside. Each house can be seen as a large diorama telling the audience what the Netherlands has to offer in several areas.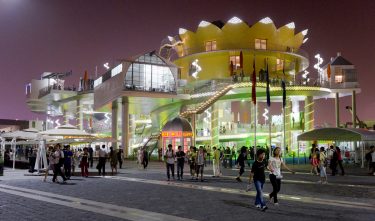 Committee
Happy Street is not so much a depiction of the Netherlands as it is but rather as how it can be dreamed. Strong elements are the routing and the well-chosen sightlines between the houses. Happy Street makes no secret of its temporary nature, which is made manifest through features such as welded joints left visible.
— Happy Street is the front runner of a sustainable and human oriented Netherlands.