Maurice Mentjens Design
Restaurant Witloof
The project
The entrance area has the appearance of a log cabin in the Ardennes, or a farmhouse or barn in the countryside. The space that follows is decorated with white tiles and has an austere metropolitan character. This space is reminiscent of the interiors of typical old chip shops. The rear section of the restaurant is the "Salon", with distinguished green gold baroque-style wallpaper and a floor resembling Namur stone. The visitor is given the impression that each of these spaces was built on and decorated over time, and that all kinds of bric-a-brac has been added. Typically Belgian.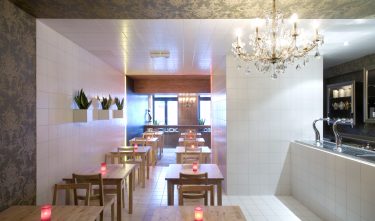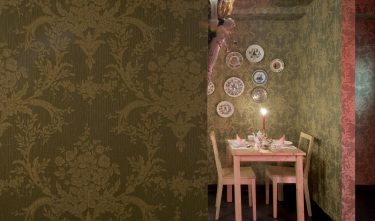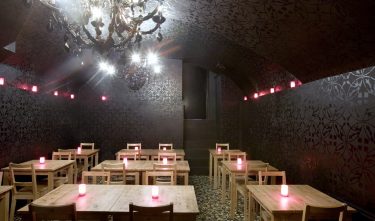 Committee
The jury was unanimous: Maurice Mentjens Design entry was by far the best in this category. Familiar elements such as the chandelier, wooden furniture and ceramic tiles are counter posed, and in this way the very best is made of them. The restaurant forms a rich composition that accommodates both modernity and tradition. It is also at once both austere and decorative. The feel for drama is tangible everywhere. Not one, but an ensemble of three interiors that complement each other effortlessly.
— The interiors that typify Belgian cafes and restaurants are combined in Witloof.