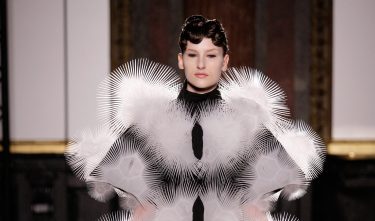 The project
Voltage is Iris van Herpen's fourth haute couture collection in which she explores the 'electricity of the body', in other words, the strength and movement of the body.
Committee
With Voltage, Iris van Herpen once again unites different worlds: architecture, technology, fashion and 3D printing. The committee highly appreciates her connective strength and crossover approach. This is what we want to see in the world: designers working together. Moreover, the result is stunning.
www.youtube.com/watch?v=RY31gU819x8
Jury
The jury shows itself impressed by the designer's interdisciplinary approach and praises her cooperative efforts. 'With Voltage, Van Herpen gives the world a view into the future of fashion. It is impressive to see how she, at such a young age, succeeds in giving so much body to her work, without any loss of experiment and challenge. With her designs she shows better than anybody else what is going on in the Netherlands at the moment.
— No one is as energetic as Van Herpen. She is unique both in her style and her eagerness to work outside her own professional field, collaborating with architects, technologists, filmmakers and musicians - Chris Reinewald, Dutch Design Jaarboek, 2013