17.01.2020
From 14 to 19 January, fashion capital Paris will revolve around Paris Men's Fashion Week. The newest collections of several Dutch fashion designers will also be reveiled, including the work of design duo Schepers Bosman and designer Sander Lak (Sies Marjan).
Schepers Bosman, consisting of designers Sanne Schepers and Anne Bosman, has gathered a strong community of musicians and bands over the years, which is reflected in their work. For the Autumn/Winter 2020 collection they were inspired by workwear, but with an aesthetic touch and show element. As the core concept is stagewear, every piece of the collection is directly linked to a musician or band. In 2016, Bosman, as part of the fashion label Futura, was nominated for a Dutch Design Award in the category Fashion.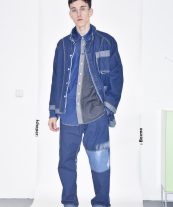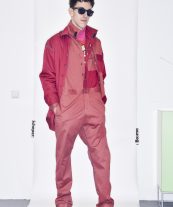 For the collection Schepers Bosman has teamed up with Hacked By_. Hacked By_ is a collaboration/project between Dutch fashion designers Francisco van Benthum and Alexander van Slobbe. Hacked by_ is known for its contemporary fashion collections using residual materials from the fashion industry. The collection consists of jumpsuits, unlined suits, workwear jackets, band shirts, raw-cut shirts, oversized patched jeans, kimono cardigans, square sweats and ties.
Sies Marjan, the fashion label by designer Sander Lak, can also be spotted in Paris. They showed the new collection as part of a casual presentation in Sander's studio. For the new collection, Sander used a lot of silk and knits. In 2017, especially the use of silk and knitwear came back a lot in the new collection. In 2017, Sander was nominated for a Dutch Design Award in the category Fashion.