04.08.2020
The strength of Dutch digital design in projects with social relevance, facilitating awareness: digital design for good.
With strong design, the contribution made by Dutch digital designers to projects that motivate awareness and contribute to society is significant. This is apparent from the trend that can be seen in the Dutch Design Awards entries, the work that is given a platform at Dutch Digital Design and the increased awareness of ourselves and our environment – a result of the pandemic.
This year, we received a record number of entries for the category Service & Systems. I have been on the jury for four years and this year saw a record number of entries, double the number from last year. A contributing factor here must have been that, due to the crisis in the run-up to the closing date, submissions could be made free of charge. A generous gesture by the organisation to designers in the Netherlands. Whatever the reason, a wonderful range of extremely varied projects were submitted as a result: a wide variety of makers and types of work. A variety of makers: both small and large agencies, but also individual designers and interactive artists. With work covering a wide range of topics: many interactive installations and digital platforms, but also apps, appliances and connected devices.
Despite the wide range, there was a clearly discernible common denominator across the submissions: most projects incite awareness – or solve a problem. A number of them responding to the challenges churned up by the pandemic, in which designers have demonstrated their ability to adapt quickly to the new situation. But there are also projects combating food waste, a device for the home monitoring of disease symptoms and an app that helps prevent young people from getting into debt, showcasing the pragmatic and solution-oriented approach taken by Dutch designers. In the many projects that incite awareness, the Dutch mindset for exploring boundaries, experimenting and scrutinising their own world is particularly useful here for conveying the message through powerful design.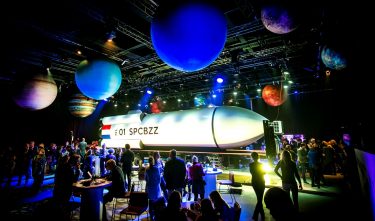 This is not just visible in this Dutch Design Awards category. Besides my work as a positioning and growth strategy specialist for creative entrepreneurs, I also chair the Dutch Digital Design foundation. This is a platform for the best digital work by Dutch digital designers. Anyone can submit interactive work through the website, from which curators select the best work. In the work that is given a stage here, we see projects that feature social relevance and incite social change: a great example of this is Spacebuzz VR (see image) by MediaMonks, a project that reveals the earth's vulnerability to young people – also winner of an FWA, 2 Golden SpinAwards and 2 Webby Awards. A trend that is in line with what we are seeing at the Dutch Design Awards.
Besides being a colossal catalyst for the digital transformation in people, society and commerce, this pandemic has also been a catalyst for reflection: our awareness about life on our planet. We have known for years that our behaviour had to change, and this period is increasing this realisation. But unfortunately, people are stubborn and old habits tend to die hard. So it is even more important that we remain aware of the dangers, but also the options we have of doing something about this together. And that is exactly where the strength of Dutch designers is shown to be so useful, with designs for projects that give hope, solutions that make the world a more beautiful and better place – and that contribute to society. Digital design for good.
Bert Hagendoorn, DDA jury member and committee chair in the category 'Service & Systems'