18.08.2021
In October 2020, Simon Dogger, Katinka Versendaal and Iris van Wees heard that they had been awarded the 'Keep an Eye Foundation – Young Designer Grant'. It has been just over a year. Where are they now and what progress have they made? Simon and Katinka tell us how they are doing. Due to a burnout, Iris has not yet started working on her project.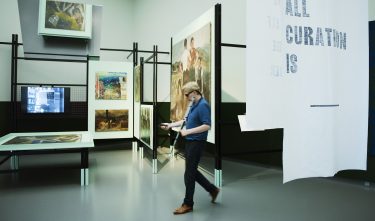 How are you doing after the investments you've been able to make?
Simon: Since 2021 I have been working in a new studio on Space-S. I use a computer that talks to me, and with other noises around me I can not concentrate as well. It's quieter here. As a result, I work better and more efficiently. Bad sitting and a lot of noise demand a lot of energy, and I have to handle that with care. With the investments in my studio, I am also able to work longer days.   
Katinka: Of course I'm very happy that I made the investments I wanted to make, especially in a peculiar year like this. It provides an impetus to be able to further define what we want to do with the studio in the future and what this might look like practically. And it gives room to actually implement that transition.
What is the status of your project?
Simon: Together with Boey Wang, we have further developed the Haptic Aesthetics project at Studio Simon Dogger. As part of it, we investigate a new methodology that approaches the design field from different values. A method that assesses aesthetics from multi-sensory perceptions, such as touch, sound, and smell. We are now designing and producing an exhibition about this for the Gwangju Design Biënnale. 
Katinka: We have just completed our business coaching trajectory. There is now a wonderful plan ready with which we can realize our naughty dreams step-by-step. I really enjoyed taking a moment to reflect on the long-term plans. As an entrepreneur, you are used to having a lot going on at the same time. You often put the long-term vision on the back burner. Because of the coaching, I was able to ask myself: what do you really want and how is it possible to achieve that? What is my dot on the horizon, apart from daily activities? Clarifying this also made it easier to work on a new way of communicating. To go out and show people what you do and will do. Then a new corporate identity and website are a logical consequence and a lot easier to tackle. I hope to launch this within the next month.
What does the future look like for you?
Simon: We recently delivered the beta version of TikTik. This is a navigation app for the visually impaired. In the follow-up phase, we will further develop the app into a Minimum Viable Product, with an expected delivery in April 2022. Museums also regularly ask me to design multi-sensory interventions. In August 2021, for example, an interpretation of an existing work of art will appear in tangible and audible form. Together with Hedwich Hooghiemstra , I am also developing interventions for the Rotterdam museum Het Nieuwe Instituut, which focuses on architecture, design, and digital culture, so that their spaces are accessible to various visitors. In August 2021, a major article about my work will be published in Wallpaper magazine.    
Katinka: The time during this pandemic is, of course, incredibly difficult for many people and companies, hopefully the end of which is now in sight. Fortunately, it has also brought positive changes. One of those good things for us is that it's now completely normal to work remotely. For my studio this means that we can roll out our vision and ambition much more internationally, and also tackle international projects. We have already started this year and will continue in the coming year. In addition, I am of course eager to start with our plans from the coaching process, such as a greater focus on research and special collaborations.