10.01.2020
During the annual Golden Globes ceremony, the best achievements of film and TV are awarded with a Golden Globe. Actress Joey King, known for her part in the Netflix hit 'The Kissing Booth', turned up at the red carpet in a dress designed by former DDA winner Iris van Herpen.
The dress is part of the 2019 Hypnosis collection, a hypnotic visualization of natural scenery and the biosphere that interweaves air, land and oceans. The dress is inspired by the work of the American artist Anthony Howe, who makes kinetic sculptures powered by the wind. To create optical illusions, Iris combined white, neutral tones, embroidery and feathers.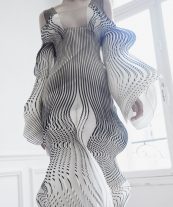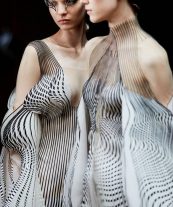 In 2013 Iris's Voltage collection won two Dutch Design Awards, one in the category 'Best Fashion' and another one in the category 'Golden Eye'. This collection embodied the elusive character of energy with a leading role for electricity. For this project Iris worked with artist and professor Philip Beesley, architect and professor Neri Oxman and arithmetic architect Julia Koerner.