07.11.2019
Former Dutch Design Awards (DDA) winner Michiel Schuurman was given the opportunity to design his own stamp sheet for PostNL. His colourful design 'Gewoontjes' was launched on 18 October.
Since this year, PostNL has given the winners of several prestigious design competitions the unrestricted opportunity to design stamps. In the design process, the selected designers are free to use their own inspiration and interests. On this occasion they asked Michiel Schuurman, graphic designer from Amsterdam and DDA winner in the Communication category in 2017.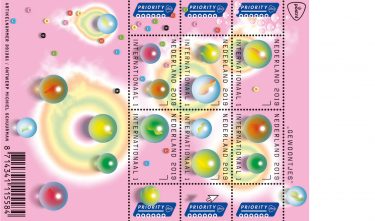 Gewoontjes
The "Gewoontjes" (ed. "ordinary") stamp sheet, consisting of six stamps for international destinations, is inspired by Schuurman's fascination with marbles. According to Schuurman, the search for a new collection of shapes and colours started with experimenting with the refraction of light in marbles and the shadows. "I have a thing for marbles. Not only because of their special appearance, but also because of the elusiveness of the marble time, which seems to start and end without reason. His style this year fits pastel colours, with a leading role for pink.
The marbles on the stamp sheet are not the most precious marbles a child has in his marble bag, but rather the marbles you play with, explains Schuurman. It stems from his fascination with the appearance of the most ordinary things, the more banal designs that you can look over quickly: "The more beautiful marbles are often the focus of the game. In Amsterdam they are called uppies, elsewhere they are called cat eyes, but the most common name is simply "Gewoontjes" (ed. the word for ordinary in Dutch). By making ordinary objects different from others, Schuurman wants people to look at ordinary things again.
Vlisco Un à Un
In 2017 Michiel Schuurman won a Dutch Design Award in the Communication category for the design of the exhibition Vlisco 1:1/Un à Un. This exhibition was previously on show in Museum Helmond, in 2016. The project, in collaboration with Studio Harm Rensink, Simone Post, Studio LUST and the Vlisco team, consisted of a hypnotic mix of colours and patterns that brought both the exhibition and the world of Vlisco to life in a unique way.