02.02.2022
The focus of this year's entries in the Young Designer category was questioning their own design field and what role the maker can play within that specialty.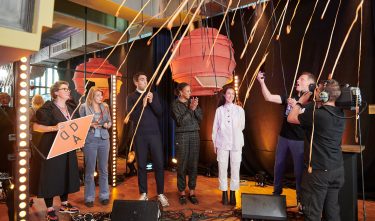 A colleague recently asked me the DDA jury days are usually run. I didn't have a ready-made answer. As a relative newcomer to the role of jury chair, I have little to compare the Young Designer meeting to what happens in other categories. But that things are usually slightly different in our department is evident, which, in and of itself, is not surprising as this is the only category where completely different disciplines are discussed. That's why the committee consists of a diverse roster of experts from completely different backgrounds. And sometimes that makes finding consensus a challenge. If you look at the pillars we use to discern projects (i.e. impact, expressiveness, individuality and production method) it quickly becomes apparent that the work of completely different makers can still be assessed side by side. Quality cannot be denied, and a strongly developed identity that is reflected in the work forms the basis for this.
The maturity with which so many young designers manage to manifest themselves continues to be cause for admiration from the jury. Just imagine, trying to claim your place in an already packed design scene that takes place in different places – both offline and online. However, most candidates succeed wonderfully in this respect, and enthusiasm is never lacking. The new guard is incredibly adept at using the possibilities of the various social media platforms. And if an opportunity to show live presents itself, they usually grab it with both hands. So far, so good. However, developing a clear image of yourself as a designer is just the beginning. Recently we have seen an increasing trend for nominated projects to question the field of design itself and within that all major social issues come to the fore. For example, the design world in the Netherlands is still predominantly white, and the ratio of men to women within many design disciplines is not yet what it should be. And if we look even broader; there is still much to be done in terms of sustainability.
Blind spots are everywhere, so they come up repeatedly, and the more insight we get, the better. After all, professional practices can only develop by continuing to approach them critically, and there is still plenty of room for improvement. The young guard holds up a mirror to the design world, shows what they feel is lacking, and then comes up with an often remarkably personal answer.
Fashion designer Bodil Ouédraogo questions the prevailing mores in the current fashion world with her collections. The fashion industry is still based on a largely Western foundation, with all the associated cultural touchpoints. Bodil makes the connection between various cultures in her work, and her own identity forms the starting point. By connecting all the influences within her, the result takes on an extraordinary depth. According to her, fashion should be as unique and complex as people are. And who can argue with that?
Bob Hendrikx aims to restore the parasitic relationship between humanity and its environment by investigating the use of living materials. However, his fascination extends beyond research and in his hands obtains an exceptionally entrepreneurial result. One minute you're an inventor; the next, you own a mycelium coffin business. A hands-on approach shows that we need to look beyond the obvious. Hear, hear!
Audrey Large, who was selected as the ultimate winner by the main jury, has set her sights on the interface between the digital world and reality. Her objects developed with CGI – computer-generated imagery – offer an innovative design. This is prompted by how she uses ultramodern techniques, and the outcome is quite alienating; the 3D printed items seem almost digital in real life. Audrey sees her designs as handmade. The movements of her own hands create the shapes, and the execution also has a traditional slant. It's craftsmanship for a new era. It may still feel unfamiliar but remember; many of the techniques that are now commonplace started life as a pipe dream. The innovative character of the designs, driven by their own identity and with which the chosen discipline is questioned, is what the final finalists have in common. This vanguard is taking a challenging road that is as exciting as it is hopeful. More of that, please!
Evelien Reich is chair of the category Young Designer.