12.07.2019
After the special first edition of the DDA exhibition, in collaboration with Petra Janssen of Social Label, it is time for the second DDA exhibition of this year, this time together with Royal Delft: winner in the category 'Best Commissioning' 2018. During three months they will show a selection of works from the winning 'Augmented Blueware' collection in the gallery of Inntel Hotels Art Eindhoven.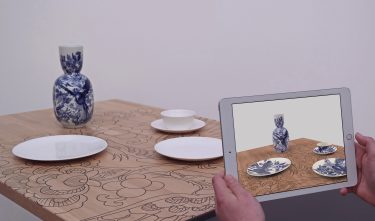 The Augmented Blueware collection of Royal Delft shows that authentic craftsmanship can be combined perfectly with augmented reality. A unique proposition in the world of ceramics, which on the one hand places the classic craft of the master painter on a pedestal and on the other hand makes inventive use of contemporary technology. How exactly, do you think?
Every Royal Delft hand-painted piece is unique because of its decoration: even if the depiction is the same, the handwriting of the master painter can be slightly different every time. Taking into account an overcrowded tableware market, FLEX/design came up with this special concept: the production of very exclusive complete tableware, in which the decoration of each individual tableware is repeatedly based on one different, unique, hand-painted Delft Blue vase. This vase is provided with a hand-painted decoration, after which this decoration is scanned directly from this 3D vase form and digitally converted into unique decorations for the other service parts, such as plates and cups. By giving only the owner of the 'centerpiece' access to ordering the matching service parts, exclusive crockery is created.
You can visit the DDA-exhibition with Royal Delft at the gallery of Inntel Hotels Art Eindhoven.