09.04.2021
Dutch Design Awards honours the best Dutch design of the preceding year. We do this in eight categories, each with its own professional jury. Who is in the jury and who is going to judge your work? And who is their representative in the main jury? In the coming weeks, we will announce the faces behind each category. We would like to introduce to you the experts of Best Commissioning!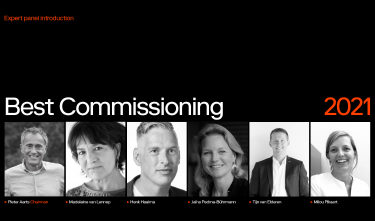 Hoofdjury
Pieter Aarts
Pieter Aarts has over twenty years of experience at several Dutch digital agencies such as Fabrique, Dept and Osudio. He is educated as an industrial designer and has an MBA in Design Management. As Service Design Director at IN10 Digital Innovation, he is mainly concerned with UX, user research, digital strategy and service design for clients such as NPO, Municipality of Rotterdam, NOC*NSF, Port of Rotterdam, NIOD and Rotterdam Philharmonic Orchestra.
Pieter sees 'design thinking and doing' as an effective way to help organisations deal with the speed of technological innovation, changes in context and digital transformation. He likes to merge business, technology and design and to increase the impact of design for organisations: design for positive change.
Vakjury
Madeleine van Lennep
Madeleine van Lennep is director of the Association of Dutch Designers (BNO), the largest collective of designers and design agencies in the Netherlands, with all design disciplines represented. She previously held various positions in the cultural field, linking policy to practices in the visual arts, design and cultural heritage. For example, she worked at the Council for Culture and was deputy director of the Mondriaan Foundation and Mondriaan Fund.
Henk Haaima
Henk Haaima is a digital designer and a creative director at Havana Harbor | Candid Group. He has worked for some big names, including KLM, Etihad Airways, China Southern Airlines, Rotterdam University of Applied Sciences, Bibliotheken Nederland, ANWB and the Dutch Tax and Customs Administration. He is the founder of Studio Proun and primarily focuses on digital branding and design at the intersection of human sciences, emerging technologies and aesthetics. Henk strives for well thought-out and timeless design. Design that shows respect towards the user and the client, and design that builds on our rich design history.

Jaina Padberg
Jaina Padberg is responsible for concept development, design and CX of all ING Retail locations. For her, design and experience are guiding forces in creating the ultimate customer journey and customer experience. Functionality is then interwoven into it. Jaina has years of experience working closely with the creative sector to create the ultimate customer experience from different perspectives. Transformation and innovation are her passion, and for this, she draws a lot of inspiration from the hospitality sector, in which she has been active for many years. Most recently, her transformation of the traditional bank branch into a community space that, as well as look & feel, incorporates the smart use of technology, has been internationally acclaimed. Design is very decisive for the feel. "People will forget what you said, will forget what you did, but they will never forget how you made them feel".
Tijn van Elderen
Tijn van Elderen is a real brand fanatic and CEO at Brabantia since 2012. Through his search for the "sweet spot between design and sustainability", he has revived his family's business brand. After completing his marketing studies and an MBA at the Erasmus University of Rotterdam (Rotterdam School of Management), Tijn started his career at Unilever in Bangkok, Thailand and worked as Marketing Manager Nordics at Diageo (Johnnie Walker, Smirnoff, Baileys) in Germany and Sweden. Before becoming CEO of Brabantia in 2012, Tijn led Brabantia's European new business development branch by opening 10 new country offices across Europe. In 2019, he took over the design brand Dutchdeluxes, and since then he has been looking for brands in the household business that make life that little bit more beautiful, pleasant and sustainable.
As a fourth-generation family member, Tijn intends to make the company 100% circular before passing in on to the fifth generation.
Milou Pikaart
Milou Pikaart has been working at HEMA since 2014, where she focuses on developing concepts and products that really make the daily life of HEMA customers better, more fun and easier. Back in the day, she started as a concept designer for cooking & dining and living, but now Milou is responsible for design within HEMA. According to Milou, the challenge as a HEMA designer is to make good, sustainable and smart design affordable and popular for a large group of people. With a background in industrial design (Eindhoven University of Technology), she previously worked at Present Time where she was responsible for design and purchasing for J.i.P. and Leitmotiv.