06.04.2021
Dutch Design Awards honours the best Dutch design of the preceding year. We do this in eight categories, each with its own professional jury. Who is in the jury and who is going to judge your work? And who is their representative in the main jury? In the coming weeks, we will announce the faces behind each category. We would like to introduce to you the experts of Habitat!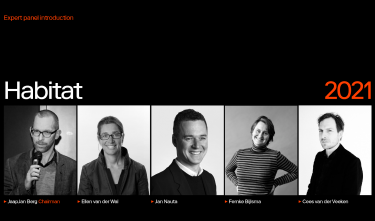 Main Jury
JaapJan Berg
JaapJan Berg is an independent publicist, moderator and researcher in the field of architecture and spacial planning/quality. He lives and works in Amsterdam and his activities include consulting, copywriting, editing, moderating, project management and teaching. He regularly publishes books and articles, and he is also a copywriter for architectural firms and other clients. He is also a teacher at the Academies of Architecture in Amsterdam, Rotterdam and Arnhem. As a consultant, JaapJan is involved in policy-making in the field of architecture, design and spatial planning. He is currently a member of the Design monitoring committee of the Culture Council.
Expert Panel
Ellen van der Wal
Ellen van der Wal is one of the founders of Vakwerk Architects. In 2017, she started her own firm, together with Paul Ketelaars and Francesco Veenstra, from which they could work together on complex assignments. It is a firm that designs and carries out a wide variety of projects that contribute to the public interest. Ellen is currently working on a diverse portfolio in healthcare, among other things. The Isala Hospital in Meppel is currently being built. The designs for Naarderheem, a Geriatric Rehabilitation Center, for GGZ Assen, and for the psychiatry building of the UMCG are currently in the works. Her great source of inspiration is the end-user, whether that is the patient, the employee, the student or the local resident. Befor Vakwerk architects, Ellen worked for almost 20 years at Mecanoo, of which the last 9 years as a partner.

Jan Nauta
Jan Nauta is a registered architect, guest critic and lecturer (AA, the Bartlett, Woodbury University Los Angeles, Cambridge University, TU Delft and the Berlage Insitut) based in Rotterdam. Before he founded Studio Nauta in 2013, he studied at the Amsterdam University of Applied Science and graduated from the Architectural Association's Diploma School in 2011, winning the AA Prize. Studio Nauta is a design and research organisation for the transformation of space specialized in delivering projects that establish new and bespoke relationships between humans and space. Jan previously worked for Markus Miessen in Berlin, was a researcher at the AA and consulted Beyond Entropy for the Venice Biennale's 2010 and 2012. He is a co-founder of the Public Occasion Agency and was a curator at Bureau Europa.

Femke Bijlsma
Femke Bijlsma is a partner at Kossmanndejong, an internationally operating design agency that specializes in exhibitions. She studied architecture at Delft University of Technology and at the Tokyo Institute of Technology. Later, she worked as an independent architect in Japan and the Netherlands, often in multidisciplinary collaborations. She is co-founder of the Refugee Company and chair of the Salwa foundation, an organization that supports artists with a migration background. Femke has taught at the Rietveld Academy and Design Academy Eindhoven and is currently a teacher at Fontys School of the Arts in Tilburg.
Cees van der Veeken
Senior Landscape Architect Cees van der Veeken is a partner and co-founder of LOLA Landscape Architects. His expertise lies in research and design on a larger scale, such as regional parks and landscape structures. He is the project leader for projects such as Feyenoord City and Adidas HQ. Cees also works as a teacher at the Academy of Architecture and has experience as a jury member, committee member and visiting critic. In 2013, he won the Rotterdam Maaskant Prize for young architects with LOLA Landscape Architects. For this occasion he wrote the monograph of LOLA "Lost Landscapes" together with Peter Veenstra and Eric-Jan Pleijster. Cees also contributed to the book 'Dutch Dikes', published in 2014.