Maurice Mentjens Design
DSM meeting and reception space
The project
A redecoration of the imposing Beatrix Room, which had to be converted into a space that would be suitable for meetings and dinners from four to twenty-two people and for short celebratory events, sometimes seated, sometimes standing, for a maximum of thirty people. To meet these requirements, two columns were placed on the floor on which table-tops of various sizes and shapes could be placed. The space is divided centrally by a large door that can be set open for large dinners and parties, and behind which furniture can be stored, as only half the space is utilized. All the walls are papered with a photographic print of bacteria and enzymes, intended as a reference to the client's production process.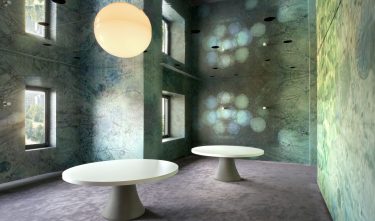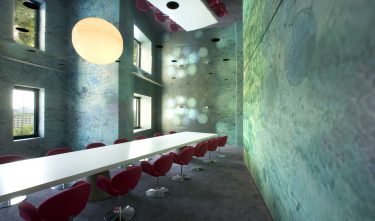 Committee
Even in a photograph, this space is a total illusion. The space is decorated with a minimum of additional refinements. The most important addition, a mirrored ceiling, "doubles" the space, and therefore also the decorative prints on the walls. The semi-spherical ceiling light that is optically transformed into a hanging lamp indicates to the jury that the designer knew exactly what he was and should be doing.
Jury
With a minimum of remodelling, a multifunctional space has been created from which three and two-dimensional design components make references to the core business of DSM (cooling towers as table legs, and a photographic wall covering that portrays the enzymes and bacteria from the DSM products).
— A daring and revolutionary design that implicitly also imparts these values to DSM as a business.