DHV Architects
Duurzame renovatie hoofdkantoor DHV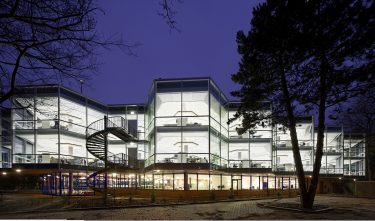 The project
The head office of DHV has undergone a sustainable renovation. In 1970, the building was realised as an open-plan office to a design by architect Zuiderhoek. In the current sustainable renovation, balanced attention has been paid to people, planet and profit.
Committee
DHV architects have succeeded in defining one strong detail, which is applied to the entire building. The building thus undergoes a transformation. The impact realised by good detailing and abstract design is stunning. The renovation lends a kind of airiness to the current design. It is important that during the renovation, no attempts have been made to turn the building into a new one. The building has thus acquired a Rietveld- like appearance.
— The renovation set out to make the most of the relationship between the open-plan office interior and the woodland exterior.