NL Architects X deMunnik-deJong-Steinhauser architectencollectief E.A.
Forum Groningen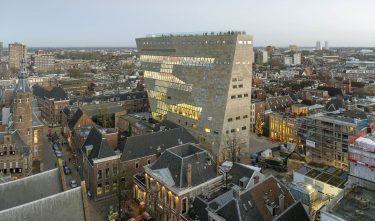 Het project
After a long wait and the necessary setbacks along the way, the Forum Groningen opened in the heart of the Grote Markt. An impressive, unique volume that understands the art of fitting in and gives the direct surroundings a new impetus. Inside, a central atrium connects six floors with open spaces and squares
, with a panoramic roof the Hoge Markt as highlight.
Forum Groningen is a cultural warehouse full of books, exhibition spaces, cinemas and restaurants that blurs the traditional boundaries between cultural functions and with a focus on meeting and connecting. Information is provided thematically in the Forum and transcends the various mediums. The building is a kind of life-sized search engine, designed for endless browsing; you will find more than you were looking for.
Jury
Forum Groningen is a public building that literally and figuratively cannot be ignored due to its size and impact. The way in which this building fits in with the context of the historic inner city of Groningen is nothing less than courageous, both in terms of urban planning and architecture. The designers have tackled the necessary challenges, such as the effects of the economic crisis and strict standards regarding earthquake resistance, with gusto. NL Architects, deMunnik-deJong-Steinhauser and the local municipality have succeeded in keeping the objective in focus: that the Forum must be a meeting place for residents of the city. Forum Groningen is thereby a remarkable enrichment to the community and also a new urban symbol for Groningen.
— 'With Forum Groningen, NL Architects and deMunnik-deJong-Steinhauser have succeeded in realising a remarkable enrichment for the community and a new urban symbol for Groningen.'