Gerard Unger
BNO Piet Zwart Award
The project
Born in 1942, Gerard Unger was educated in the pre digital era and during his career, he saw the rise of the computer from upclose. He developed characters for digital typesetting machines and printers, and published about typography. In 2006 he was appointed to the University of Leiden to become the first Dutch professor of Typography. He was a long time teacher at the Rietveld Academy, the school where he himself was trained. He shares his knowledge through publications and books, "As you read" is the most famous publication published in 1997.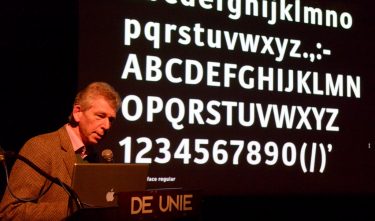 Jury
In the past decades, typography was transformed by digitalization. The craft of making letters is therefore changed. With the rise of ICT, new problems emerged related to typography and there, Gerard Unger offered relevant solutions. The artisanal quality that is reflected in his work is therefore extremely relevant. He gave a new twist to the profession and has internationally received great recognition.
Gerard Ungers letters make an important contribution to the design field. His designs posses a certain subtlety and uniqueness. He has also created social value through designs that saved paper. Furthermore, he is responsible for the exchange of knowledge through his role as a lecturer at various colleges and universities.
The jury thinks that it's time that attention is drawn to the profession of typography. The letter is an important basis on which a graphic design can become a success or a failure. The collaboration between typographers, graphic, spatial and product designers is important and makes space for originality and its own signature.
— For Gerard Unger, developing a letter is a craft. The artistic quality of his letters can be seen because they are easy to read and save space.