ANTOINE PETERS
SPACE GARMENT IN HET BONNEFANTENMUSEUM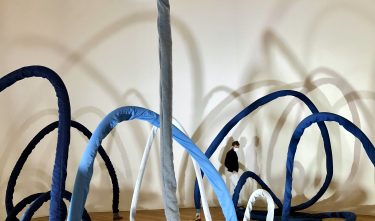 Het project
Antoine Peters' creative expressions move between fashion, art and architecture. For twenty years now, Peters has been drawing textile sculptures and installations that are created in dialogue with the space. In the Bonnefanten Museum these Space Garments became a landscape of sleeves and jeans. Visitors were invited to literally walk 'through' the clothing, and the space around an item of clothing became just as important as the garment itself. The curious objects have a disruptive effect on the viewer, with which the designer wants to break through the traditional relationship between observer and object, making us see clothing and the world around us differently, both literally and figuratively.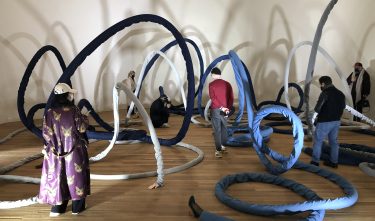 Vakjury
Antoine Peters is an incredibly transparent designer who embraces everything and eagerly shares knowledge. It is his high level of involvement that invites a wide audience to experience what fashion can do to you. Peters questions, reflects and experiments in a fun, accessible way and engages tirelessly in conversations with visitors; a successful example pf a participative designer. His modesty and carefulness in dealing with people is typical of the mentality of a new generation of designers, for whom collaboration is a natural starting point. As a fashion designer he has placed Space Garment in a challenging art space like the Bonnefanten Museum to tell a multi-layered story.
Commissioned by FASHIONCLASH Festival, hosted by Bonnefantenmuseum, powered by Creative Fund NL. 
— 'Antoine Peters has placed Space Garment in a challenging art space like the Bonnefanten Museum to tell a multi-layered story in a fun and accessible way'