19.10.2019
The work of all winners and nominees of the Dutch Design Awards '19 can be seen this week at the retrospective exhibition in VEEM. A number of DDA winners and nominees can be seen at other locations at Dutch Design Week (DDW) as well. Below you can see who you can find where from 19 to 27 October!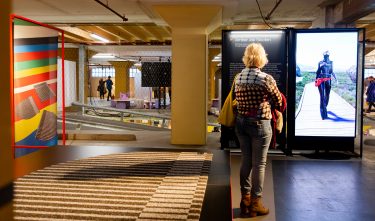 Clever°Franke | Winnaar Service & Systems 2019
Clever°Franke, winner in the category Service & Systems with the BMX Live Visualisation, exhibits Aiml. In hall three of Klokgebouw you will discover all about this project that creates awareness about how Artificial Intelligence (AI) and Machine Learning (ML) work, and how they can be used. As a sensitive animal from the 'Cirque du Data', Aiml has a constant sense of her surroundings and reacts to the state of mind of a neighbourhood with a drawing. With this project, Clever°Franke is part of the Digital Route of DDW.
Gispen | Winnaar Product 2019
With the Gispen Sett CE Bank, Gispen is part of the Embassy of Sustainable Design. It is a timeless design sofa, designed by Peter van de Water and made from 95 percent recycled materials. In order to prevent plastic waste, Gispen has used its own plastic waste material for the production. Together with TU Delft and Searious Business, waste materials have been used to develop a new raw material with which the body of the sofa is printed 10XL.
RNDR | Winnaar Communication 2019
Being part of the main DDA exhibition, the project OPENRNDR from RNDR is part of the Digital Route of DDW. OPENRNDR is an open source framework for creative coding. In contrast to existing frameworks, OPENRNDR is based on the creative nature of an artist or designer and combines this with the power of production software.
Carolien Ligtenberg | Commissie Habitat
As a design expert, Carolien Ligtenberg is a member of the Habitats Committee. On Sunday 20 October she will be one of the speakers in the DDW Talks: Architecture & Public Space. She will be accompanied by other speakers such as Laurens van den Acker (Renault), Coren Sharples (SHoP Architects New York), Francesca Cesa Bianchi (Boeri Architetti), Bart Cosijn (moderator), and Fabio Colturri (DesignWanted). The talk is moderated by Floris Alkemade (Rijksbouwmeester).
Gispen X Harmen Liemburg (Stichting het Paleis van Typografisch Metselwerk)
On Tuesday 22 October, Gispen will be part of Canon's talk 'Innoveren met Print''. Other speakers include Harmen Liemburg, who was involved with the Foundation for the Palais of Typographic Masonry. This event is from 15:00h to 17:00h.
MacGuffin | Winnaar Communication DDA 2018
On Monday 21 October, Ernst van der Hoeven and Kirsten Algera, the driving forces behind the unique magazine MacGuffin, are part of Re-Create Out Loud in MU Artspace. Last year, MacGuffin won a Dutch Design Award in the category 'Communication'. Each edition, they zoom in on a different object. They are currently working on a new issue that focusses on the desk as an object, which is one of the regular props in many talk shows, the subject of Re-Create out Loud.
Dutch Design Awards 2019 | Retrospective exhibition
The work of all winners and nominees is on display in a nine day retrospective exhibition at DDW. This exhibition tells the story behind the designs, places the works in their social context and thus clarifies the impact and meaning of the designs.