Anastasia Eggers X Ottonie von Roeder
Cow&Co
The project
Cow&Co is a concept introduced by a herd of cows that want to start their own business. The cows turn themselves into self-sufficient milk production machines. Methane gas collected from their stomach is used to fuel a milking robot. The animals roam independently in the green spaces of a city and use an online service to connect with their customers. This service allows people to select a cow and collect fresh milk from it. The animals are equipped with a welfare sensor so they can monitor quality, and can also use the data for technical, veterinary and nutrition maintenance. Cow&Co questions the production-consumption relationship between people and cows and proposes an alternative business model.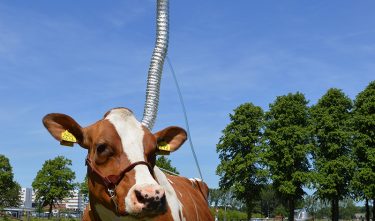 Committee
The jury is intrigued by this disruptive, speculative project. This autonomous design takes a fascinating look at the dividing line between fiction and practical solution. Although Cow&Co clearly does not offer a realistic solution to real problems such as overconsumption and the urban alienation from milk production, the project offers a poetic contemplation of an alternative reality, using all kinds of new technologies. A strong conceptual project, which the jury believes is quite at home in the category Service & Systems.
— Cow&Co offer a poetic look at an alternative reality, using all kinds of new technologies.