Studio Dumbar
Eventstyle European Design Festival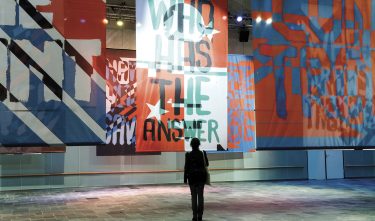 The project
For the European Design Festival developed Studio Dumbar an event style in a short time for the posters, flags and banners. The designers expressed the role of design in society through this event style. In times of economic recession, in their opinion, a designer should not just be concerned with aesthetic questions; he or she carries responsibility with respect to the functioning of society. On the 14 different posters, questions are asked that could relate to both society and design practice.
Committee
An event like the European Design Festival, which took place in Rotterdam at the end of May, needs a
strong visual language if it wants its posters and banners to attract attention in the city. Studio Dumbar
chose an abstract visual language that mixes European flags with the amateurish style of protest
movements. This enables the designers to express the diversity of design.
— The posters emphasize the responsibility of designers in societal challenges.