MOOOI
The Button – Digital Proof Of Authenticity
The project
In a world where mass production and fakes are becoming increasingly common, Moooi wants to invest in (the future of) original design. The Button: digital proof of authenticity arose from this motivation. The button contains NFC technology and subsequently accompanies all designs made by the maker. Furthermore, the button can be adopted by other brands and designers: The Button uses a technique that can be applied to the designs of all physical products. The Button gives objects a unique identity and acts as proof of authenticity. It therefore protects original designs, as well as the buyer of (design) pieces. The Button can be read by every smartphone and is easy to use.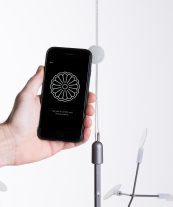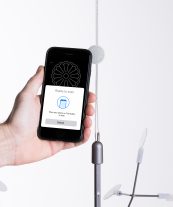 Committee
The Button is a powerful interaction between the physical design and its digital identity. The concept 'items with a digital alter ego' offers a great deal of potential for the long-term. The digital identity can contain much more than information about authenticity, such as ownership, repairs and the background of the design. The Button is an example of an intervention that makes a difference for both designers and users. As such, Moooi
makes a transition in the role they play that goes further than designing, presenting and selling and that increases the possibilities for the design world. The Button is artisanal and executed with great care. A technical solution in aesthetically successful packaging: this is value through good design.
— The Button by Moooi is a technical solution with lots of potential, in aesthetically successful packaging: this is value through good design.