Chives Archives X René Put
What now, Koetsier?
The project
The project 'What now, Koetsier?' consists of a series of autonomous artworks that were presented each week as an advertisement in Het Parool. For the series, more than forty designers were invited to create a work for the space available, experimenting with image and language. The project is an initiative of designers Celina Yavelow and Freja Kir (Chives Archives) in collaboration with René Put (PutGootink) and pays tribute to the work of conceptual artist Hans Koetsier. The series of 45 small digital and analogue 'advertisements' is inspired by the work and ideas of the artist himself, who presented a similar series of advertisements in the 1970s and 1980s. The works are bundled and published in large format as a daily newspaper and archived online.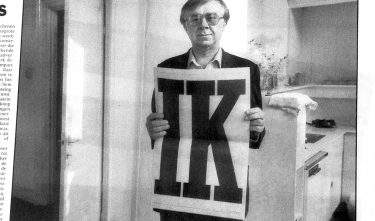 Committee
This ode to an almost forgotten artist is a beautiful initiative and an intriguing total concept. By taking a historical approach, the makers give the history of the graphic design profession a platform and erect a statue to Koetsier. A special side programme has been developed around the series, with a symposium featuring lectures by designers and makers and an exhibition that also introduced young designers and artists to a new name in history. A heartfelt project that inspired the immediate collaboration of numerous colleagues, resulting in a chorus of individual voices that expressed a shared message.