De Designpolitie
Trafikant
The project
Door het aantal kleuren terug te brengen is het mogelijk geworden om de afmeting zowel als het aantal paginas in 'Transit' te vergroten wat het mogelijk maakte meer focus te leggen op het werk van elke individuele student. Aan het oppervlak is alles aan elkaar verbonden door een overkoepelend thema: Cranbrook, gelegen in een van de rijke buitenwijken van Motor City Detroit. De wijk kan alleen via de auto worden bereikt. Dit is de inspiratie geweest voor de fotografie en het lettertype dat gebaseerd is op auto-onderdelen van de originele 'Plymouth Cranbrook 53'. Adrian Frutiger's 'Univers', 'Turfhaus' en een in hars gegoten aangepaste versie van dit lettertype maakten de typografische middelen voor deze productie compleet.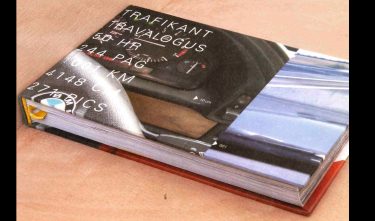 Committee
By reducing the number of colours it has been possible to increase the size as well as a number of pages in 'Transit' which allowed to focus much more on the actual work of each individual student. On the surface level everything has been tied together using one overlapping theme: Cranbrook, situated in one of the wealthy suburbs of Motor City Detroit, can only be reached by car. This inspired the custom photography as well as the typeface which is based on car parts of the original 'Plymouth Cranbrook 53'. Adrian Frutiger's 'Univers', 'Turfhaus' and a custom, resin cast, version of this typeface, completed the typographic toolkit for this production."
— The Design of a graduation catalogue for an art academy can degenerate into a page-by-page struggle between students' work it contains and the ideas of the designer of the catalogue.