The project
In cooperation with: Studio Dumbar and Mirabeau.
Transavia is well-known as a budget airline. In an extremely competitive market they chose to deploy design to give their brand a boost, both externally and internally. The rebranding is to contribute to the further international roll-out of the company. The intention is to attract business travellers in addition to the holiday makers. Transavia is doing this through a new visual identity (Studio Dumbar), a new e-commerce platform (Mirabeau) and rebranding of all publicity.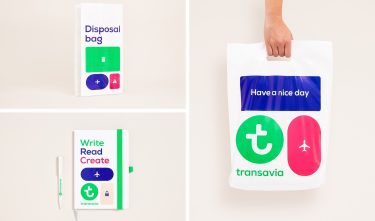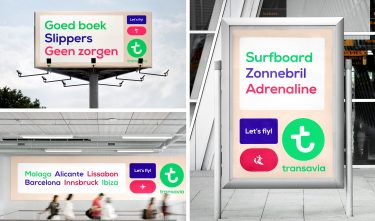 Committee
In this cooperation the client found the perfect balance between providing space for creativity and not being too easily satisfied. This propelled the cooperating team at the design studios to greater heights. Resulting in a rebranding project that demonstrated daring in all its facets and that has given the Transavia employees pride in their company. A dialogue with the customer has successfully been engaged. The result is measurable: the number of online bookings through the Transavia website has now exceeded the bookings through intermediary websites. The committee believes that this is a good example of a very smart combination of online design, good old graphic design, usability and design thinking: a very modern case, with demonstrable results.