Rijksoverheid
Water as leverage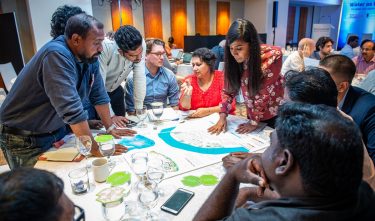 Het project
Cities all over the world 
are being hit hard by climate change and far-reaching urbanisation. 
Water as Leverage for Resilient Cities Asia (WaL) sees water as a catalyst for sustainable development: w
ater is globally not only the most significant risk, but also the best connective factor. Through research by design, WaL develops an integral and inclusive approach for the global urban climate problem. Together with multidisciplinary teams, WaL is currently designing climate-adaptive concepts for three cities: Semarang (Indonesia), Chennai (India) and Khulna (Bangladesh). The transformative approach and projects, that are being developed in collaboration with the local government, financiers and the vulnerable communities the programme focuses on, should eventually be scalable throughout Asia and the rest of the world.
Jury
Water as Leverage (WaL) takes the Netherlands to international levels with an approach that is refreshing, not only for governmental agencies. The Rijksoverheid shows that we can approach even large, global issues as an opportunity instead of as a threat. This is the daring mentality for which the Netherlands is internationally known, especially when it comes to water management. The urgency is apparent and WaL focuses immediately on taking action with three concrete pilots, while the working method offers all kinds of opportunities for scaling up the approach. This demonstrates a strong confidence in the power of design. The jury thereby also sees possibilities for other (knowledge) domains that should see WaL as a shining example.      
— 'With Water as Leverage, the Rijksoverheid shows that we can approach even large, global issues as an opportunity instead of as a threat.'